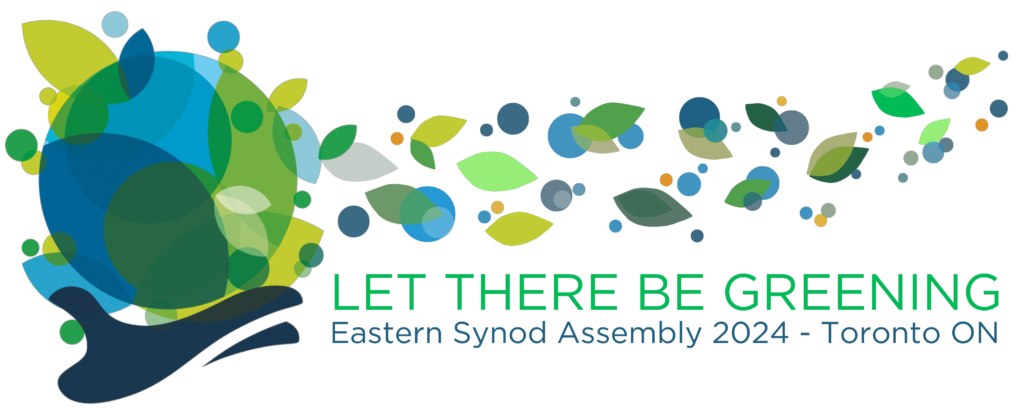 Good and gracious God, we give you thanks for this day, and for the opportunity to discern as servants and leaders of your church. In this season of change, we commit ourselves to a period of deep discernment as we consider your call for the life of our Eastern Synod. In you, we give thanks for the faithful witness of your church past, and we celebrate the opportunities for new expressions of ministry that bid us into the days ahead. Fill us with a sense of trust, an unwavering commitment to the gospel, a tender focus toward our neighbour, and an open heart to the stirring of your Spirit. Make us curious to your will, and may it be completed in our decisions. Come, Holy Spirit, Come. Amen.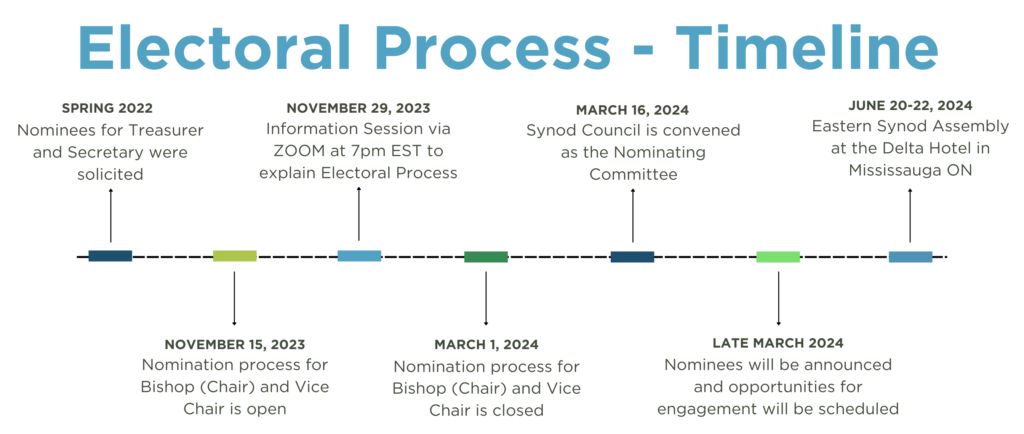 In June 2024, the Eastern Synod of the Evangelical Lutheran Church in Canada will elect four new officers: Bishop (Chair), Vice Chair, Secretary and Treasurer. The election of these four officers will occur during the Eastern Synod Assembly convened from June 20-22 in Mississauga ON.
To encourage a period of discernment, and to facilitate our election, the Eastern Synod Council has approved a policy that will guide us in this important and faithful work together. You may view the full policy here. The purpose of this communique is to explain this process and invite your participation.
As you may recall, a synod-wide call for nominees for the positions of Secretary and Treasurer was issued in Spring 2022. Nominations were carefully reviewed by the Personnel Committee and Officers. The Secretary and Treasurer are elected by the Synod Assembly by nomination of the Synod Council.   We are pleased to announce that the nominees for these positions are Chris Hulan (Secretary) and Fred Mertz (Treasurer). Biographical information is available on the nominee page.
A synod-wide call for nominees for the positions of Bishop (Chair) and Vice Chair will open on November 15. Nominations shall be forwarded in writing via the nomination form to the Secretary of Synod, Rev. Wendell Caron Grahlman by any six members (3 lay members of any Eastern Synod congregation or synodically recognized ministry and 3 rostered ministers serving under call or appointment). The Bishop shall be elected from the roster of ordained ministers of this church and its full communion partners. The Vice Chair may be a Rostered or Lay Person who is a member of any Eastern Synod congregation. The consent of the potential nominee must be obtained prior to submitting the nomination.
Nomination Form – Bishop (Chairperson)
Nomination Form – Vice Chairperson
Nominations will close on March 1, 2024. A special ZOOM open to all Rostered and Lay Members will be convened on November 29 @ 7pm EST to review this material and answer any questions. Pre-registration is required and you may do so HERE.
Once a nomination for Bishop or Vice Chair has been received, the Secretary of Synod, Rev. Wendell Caron Grahlman, will reach out to the potential nominee to solicit candidate profile information.
On March 16, the Synod Council will convene as the Nominating Committee. At this time all potential nominees will be reviewed along with their candidate profiles. Each Nominating Committee member shall vote, by secret ballot, for up to three eligible persons. The six persons receiving the highest number of votes (no less than five votes) shall be the nominees for the position of Bishop and Vice Chair. The names, and candidate profiles of each nominee will be made available on the Eastern Synod Website shortly thereafter.
During the March 16 meeting of the Nominating Committee, an Electoral Procedures Committee will be appointed to determine and oversee what (if any) additional processes might be used to allow members of the Synod to engage with nominees in advance of the electoral convention. Opportunities may include recorded videos and/or virtual town hall gatherings.
On June 5, a special ZOOM meeting will be convened by the Synod Assembly Committee to discuss electoral procedures with delegates.
From June 20-22, the Eastern Synod will gathering in Assembly at the Delta Hotel in Mississauga ON. During this time, balloting will proceed according to the administrative bylaws of this Synod (ES Bylaws Part V, Section 12). Ecclesiastical Ballot will still be used to begin the electoral process.
As a synodical family, we are now being called into a time of intentional discernment, prayer and decision making. Already the Spirit is at work in, with and among us. As communities of faith, you are encouraged to pray for our Synod, and for those who have and will consent to allow their names to stand for positions of leadership in God's church. As one prayer from the ELW aptly reminds us, we may not know precisely where we are going, but we can confidently trust that God is guiding us.
Please continue to consult the Synod Assembly page on the Eastern Synod website where you will find a range of resources to supplement this communique. Additional resources as well as biographical information, will be added as they become available.
May God bless us as we journey together.