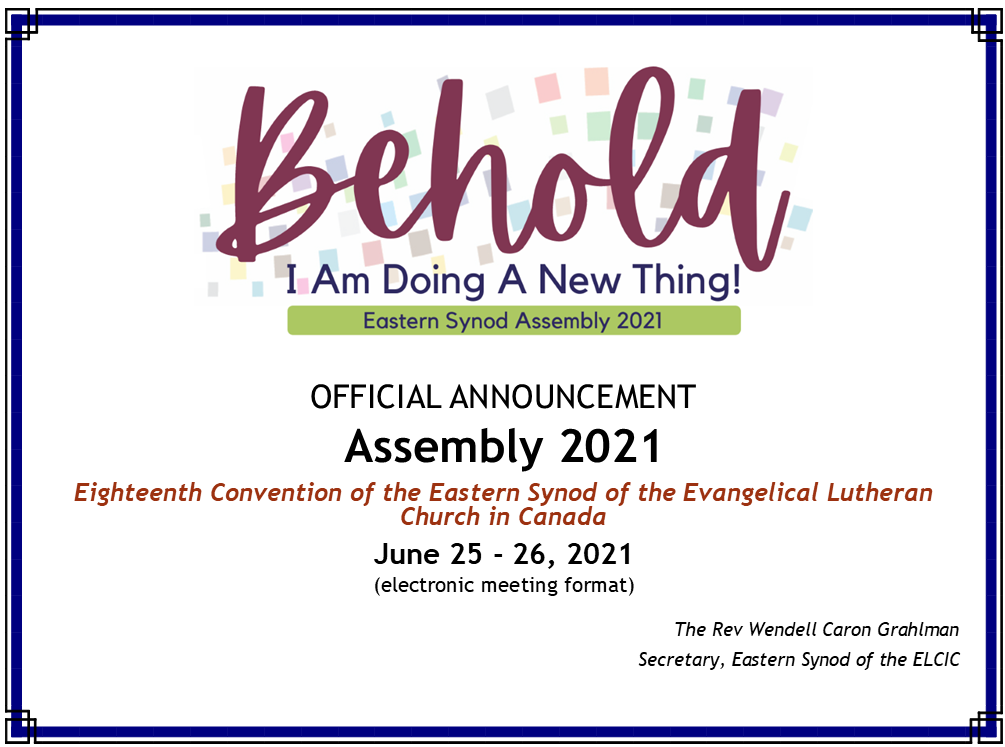 ROAD TO ASSEMBLY 2021
The 2021 Eastern Synod Assembly will be held June 25-26 using an online format.
The details on this page will be updated to provide the most current information as it becomes available.
If you have any questions, please do not hesitate to contact the Eastern Synod Office.
We look forward to gathering with you in June to explore our theme, "Behold, I Am Doing A New Thing!"
---
KEYNOTE SPEAKERS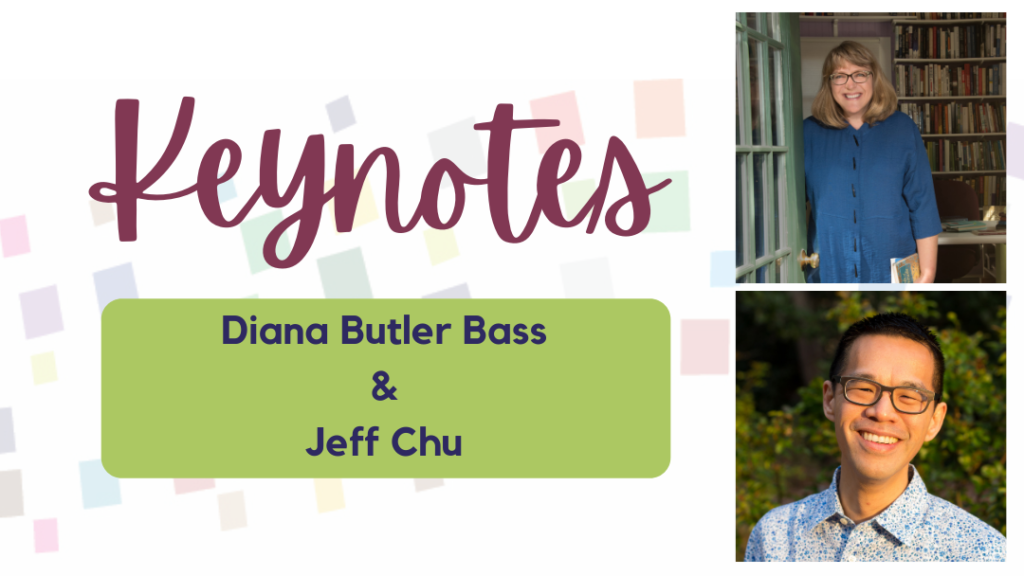 We are very pleased to announce that our Keynote Speakers for Assembly 2021 will be Diana Butler Bass and Jeff Chu. Our time in assembly will be enriched by three keynote presentations during which Diana and Jeff will reflect on our theme, "Behold, I am Doing A New Thing".
Diana Butler Bass (Ph.D. Duke University) is an award-winning author and internationally known public speaker and thought leader on issues of spirituality, religion, culture and politics.
Jeff Chu brings his eclectic journalistic career to bear on matters of spirituality and faith. Jeff is an author, lecturer, and co-leader of the Evolving Faith Conference and Podcast.
---
REGISTRATION
Assembly 2021 registration is now open for all Delegates and Visitors. Please be sure to complete the correct form. Information for DELEGATES is listed first, with information for VISITORS following after. If you have any questions about the registration process, please contact the Eastern Synod office prior to completing the form.
DELEGATES
THE FEE FOR ALL DELEGATES IS $50.00
Online registration is now open!
The registration form and credit card payment can be completed online.
If you do not pay online with a credit card, please forward a cheque for the applicable delegate fees, payable to the Eastern Synod, to the Eastern Synod office.
REGISTRATION DEADLINE EXTENDED: MAY 14, 2021
Wondering who is considered a delegate to the Eastern Synod Assembly? CLICK HERE to learn more.
CANCELLATIONS
The deadline for cancellations is June 1, 2021.
We will be using the WHOVA platform to host our Eastern Synod Assembly in a virtual format.
Please note that a number of opportunities will be available for delegates to familiarize themselves with the WHOVA platform in advance of the Assembly. Invitations to these opportunities will be communicated to delegates in April.
---
VISITORS
Anyone wishing to view the livestream of some or all of the proceedings can do so. There is no fee to view the livestream.
A link to the livestream will be emailed to you prior to the start of Assembly.
---
AGENDA
A detailed agenda will be included in the Bulletin of Reports. For the purpose of planning your time in assembly, a "Highlight Agenda" has been provided.
---
BULLETIN OF REPORTS
The Bulletin of Reports will be available for downloading, free of charge, on the Eastern Synod website www.easternsynod.org one month prior to the Assembly. Printed copies will be available at a cost of $25.00 (to cover printing and postage). You will need to indicate on your Registration Form whether you will be downloading an electronic copy or require a hard copy to be mailed. The printed copy, if requested, will be mailed out prior to Assembly.
---
ASSEMBLY COMMITTEES
Some delegates will be appointed to various Assembly Committees. Delegates will be advised of such appointments prior to the Assembly. The Chair will introduce these committees at the first business session.
---
YOUTH DELEGATES
Needed: young people between the ages of 16-24 who have a keen interest in the life of the church; a willingness to be in community, and to learn about how the wider church operates. Come join us for Youth Assembly, 2021 at the Eastern Synod's online Synod Assembly, June 24-25. Registration fees for Youth Assembly participants will be covered by the Youth and Young Adult Ministry Committee. Please send the names and preferred contact information for all youth nominees to Rev. Christie Morrow-Wolfe (cmorrow-wolfe@elcic.ca) by no later than MARCH 15.
Congregations are also encouraged to consider electing young adult leaders to be their representatives at Assembly.
---
FORMS
Nomination & Election of Eastern Synod Delegates to the ELCIC National Assembly 2022
---
MONTHLY ASSEMBLY UPDATES
Road To Assembly – March 26, 2021
Road To Assembly – March 4, 2021
Road To Assembly – February 15, 2021
---
IMPORTANT DATES
| | |
| --- | --- |
| Reports Due | March 1, 2021 |
| Leadership Award Nominations Due | March 31, 2021 |
| Delegate Registration Deadline (EXTENDED) | May 14, 2021 |
| National Church Assembly Nominations Due | April 25, 2021 |
| Reference & Counsel Motions Due | April 30, 2021 |
| Bulletin of Reports Available for Download | May 15, 2021 |
| Assembly! | June 25-26, 2021 |
| | |
---
PAST ASSEMBLIES