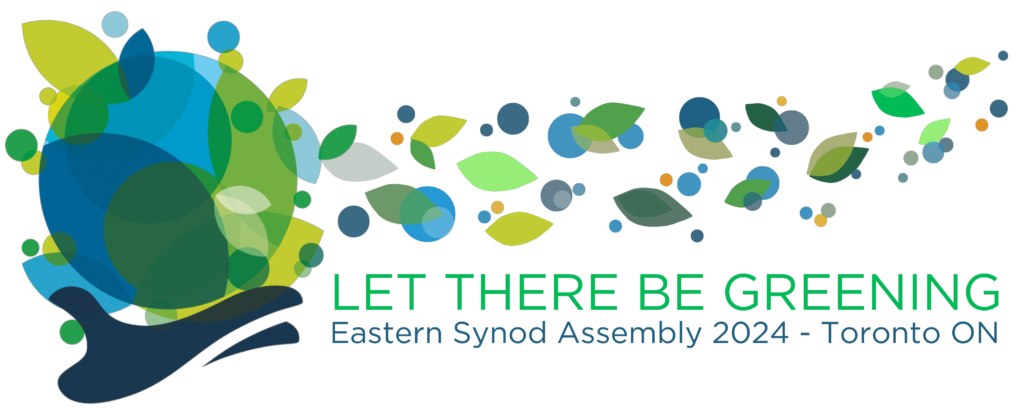 The 2024 Eastern Synod Assembly will be held from June 20-22, 2024. We will gather in-person at the Delta Hotel, Mississauga ON. As they become available, details and other pertinent information will be available on the Assembly Page of the Eastern Synod website.
---
Announcement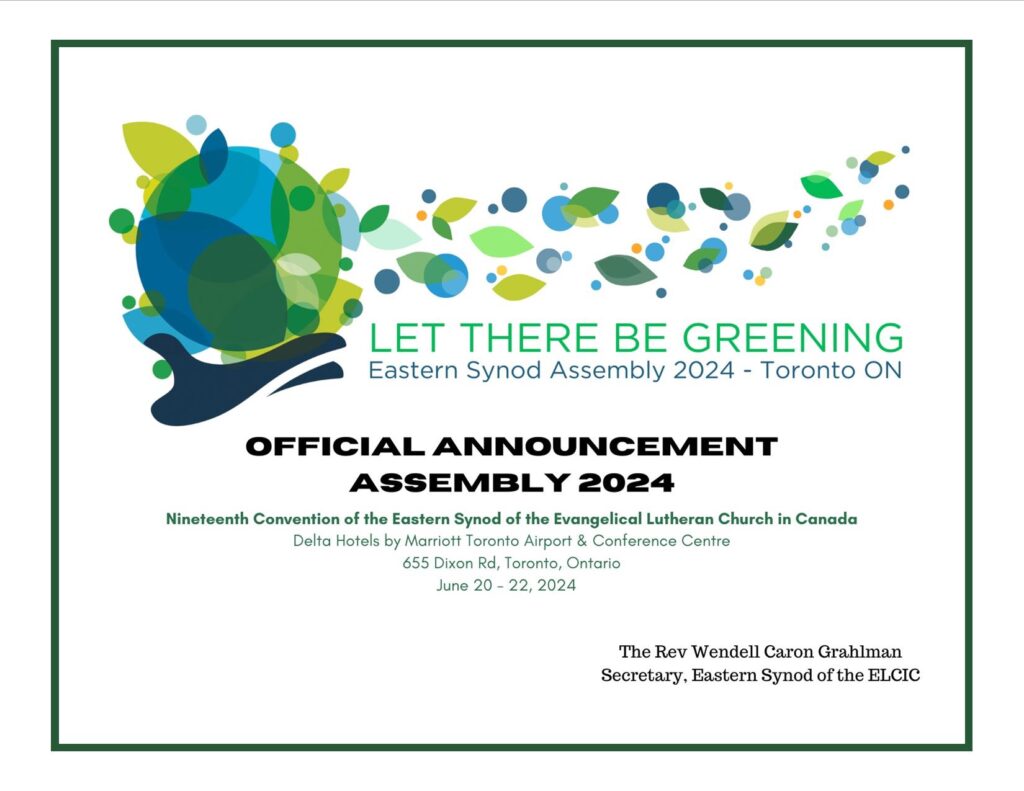 The Eastern Synod Assembly will gather under the theme "Let There Be Greening". The logo, which features a world and flowing leaves symbolizes change. The world/church is cradled in God's hand.
---
2024 Electoral Process
In June 2024, the Eastern Synod of the Evangelical Lutheran Church in Canada will elect four new officers: Bishop (Chair), Vice Chair, Secretary and Treasurer. The election of these four officers will occur during the Eastern Synod Assembly convened from June 20-22 in Mississauga ON. To encourage a period of discernment, and to facilitate our election, the Eastern Synod Council has approved a policy that will guide us in this important and faithful work together. Visit the Electoral Process page for more information.
---
Budgetary Planning
As congregations are now budgeting for next year, the Synod has determined the suggested budget amounts for Assembly 2024. The estimated costs per delegate are suggested as follows:
Registration fee $750 – this includes dinner on Thursday, lunch on Friday and the banquet dinner on Friday
Accommodation $199 – based on double occupancy for 2 nights (may not be applicable for local delegates)
Parking $40 – 2 days at $20/day
Breakfast per diem $40 – $20 per meal, Friday and Saturday
Lunch per diem $48 – $24 per meal Thursday and Saturday
Estimated total per delegate – $1,077
Please remember that you will need to budget for each of your rostered leader(s) and lay delegate(s) that will be attending.
---
Assembly Communications
Electoral Process Update
On November 15, 2023, a communication was provided to explain the electoral process that will be used in 2024, and to announce the nominees for Secretary and Treasurer.
Pastoral Letter
In a pastoral letter dated October 3, 2023, Bishop Michael provides formal notice that the Eastern Synod will be electing new officers – Bishop (Chair), Vice, Chair, Secretary and Treasurer – at it's June 2024 Synod Assembly.
---
Past Assemblies
Assembly 2021
Assembly 2018