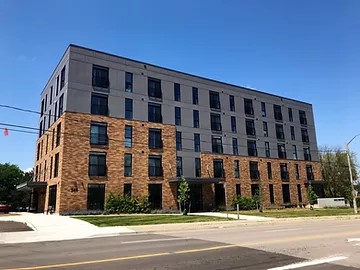 St. Paul's Lutheran Church on Bridgeport Road in Waterloo now shares the property with 48 affordable rental units which was completed in 2021.
The congregation recognized the need for affordable housing and that their property was a good resource and by partnering with Congregational Redevelopment Services and developer, Menno Homes, and Parents for Community Living, 48 people or family groups have made the new building their home.
​The project is a collaboration between all three levels of government, and several community groups: MennoHomes, Parents for Community Living, a charity that supports adults with developmental disabilities, and St. Paul's church.
Those who live in the units say living somewhere they can afford is life changing
Dan Driedger, executive director of Menno Homes, said it could not have done without the leadership of the church.
​Read more:
https://easternsynod.org/st-pauls-journey-to-transform-lives/
Read more:
https://kitchener.ctvnews.ca/a-higher-calling-waterloo-region-churches-sell-land-to-build-housing-1.5841848