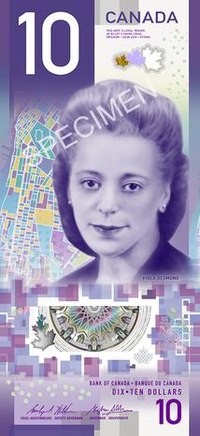 *…."Black History Month is a time to remember and reflect on important people and events of the past-and the present-and to continue to work toward a better, fairer future."
The commemoration of Black History Month dates back to 1926, when Harvard-educated African American historian, Carter G. Woodson, proposed setting aside a time devoted to honour the accomplishments of African Americans and, now, includes African Canadians and African descendants around the world. Originally, it was to heighten awareness of Black History in the U.S. For many, it is an opportunity to learn and acknowledge the contributions to the world by African descendants which is not often captured or taught in the annals of universal history.
Our feature this month is, Viola Desmond, businesswoman and civil rights activist in Halifax, Nova Scotia. Her picture appears on the Canadian $10 banknote released on November 19, 2018. Read more about Viola Desmond at:
www.thecanadianencyclopedia.ca/en/article/viola-desmond
**Other notable and famous Black Canadians include:
Willie Eldon O'Ree, CM ONB
(born October 15, 1935) is a Canadian former professional ice hockey player, known best for being the first black player in the National Hockey League. O'Ree played as a winger for the Boston Bruins. Often referred to as the "Jackie Robinson of ice hockey" due to breaking the black colour barrier in the sport, and has stated publicly that he had met Jackie Robinson twice in his younger years. He was inducted into the Hockey Hall of Fame in November 2018.
Also in 2018, the NHL instituted the annual Willie O'Ree Community Hero Award in his honour, to "recognize the individual who has worked to make a positive impact on his or her community, culture or society to make people better through hockey."
Ferguson Arthur "Fergie" Jenkins CM (born December 13, 1942) is a Canadian former professional baseball pitcher and coach. He played Major League Baseball for the Philadelphia Phillies, Chicago Cubs, Texas Rangers and Boston Red Sox (1965–1983). Jenkins played the majority of his career for the Cubs.
Lincoln MacCauley Alexander, PC CC OOnt CD QC (January 21, 1922 – October 19, 2012) was a Canadian lawyer who became the first black Member of Parliament in the House of Commons, the first black federal Cabinet Minister (serving as federal Minister of Labour) and the first black Chair of the Worker's .
Michaëlle Jean PC CC CMM COM CD( born September 6, 1957) is a Canadian stateswoman and former journalist who was the third Secretary-General of the Organisationinternationale and first Black Governor General of Canada.
The first black hockey team from St. Catharines, Ontario, the St. Catharines Orioles.
Notable Historic Black African-Americans Include:
Harriet Tubman (code name: "Moses") born into slavery , was a famous abolitionist renowned for her exploits in guiding her fellow slaves to freedom in the north on the Underground Railroad.
George Washington Carver (January, 1864-January 5, 1943); born into slavery, taught at Tuskegee Institute and became one of the most prominent Agricultural scientists and inventors of his time.
Madam C. J. Walker (December 23, 1867-May 25, 1919); African-American entrepreneur, Philanthropist and political and social activist.
Rosa Parks (February 4, 1913-October 24, 2005); was a civil rights activist who refused to surrender her seat to a white passenger on a segregated bus in Montgomery, Alabama.
Martin Luther King Jr. (1929-1968); the most important voice of the American civil rights movement. He was famous for using nonviolent resistance to overcome injustice, and he never got tired of trying to end segregation laws. He also did all he could to make people realize that "all men are created equal." In 1964 he received the Nobel Peace Prize. He was assassinated at the age of 39 years old.
submitted by Pat Lovell
* The Jazz Magazine newsletter
** Source- Wikipedia