St James Lutheran Church, Renfrew ON is a small congregation in the Upper Ottawa Valley. We have been watching our membership decline and our 60-year-old building age and need expensive repairs. Just the cost of heat and electricity was straining our budget.
How do we keep going?
Years ago, we realized we could not afford full-time ministry and were very fortunate to work out a Shared Ministry agreement with our sister congregation, St John's Lutheran Church in Arnprior.  We are now blessed to be able to share their minister, Pastor Norine Gullons.
   This arrangement helped us survive years longer than we would have otherwise, but still we seemed to be running a deficit budget each year.  This made it extremely difficult to keep our commitment to be a congregation "In Mission for Others". 
   We still have a strong core group of members in our congregation and after many meetings, we realized that we all want to continue worshiping together in Renfrew, so closing and going elsewhere wasn't a viable solution – we wanted to stay together.  So now what?
   We sold our building and property in June 2021 and have arranged to rent the small chapel at Trinity-St Andrew's United Church in Renfrew.  This is one of the first joint agreements with a United Church congregation in Eastern Synod.
   Trinity-St Andrew's has been very welcoming.  We have been able to bring our altar, our lectern, baptismal font, holy hardware and so many other things from our old church, that the chapel looks like "home".  One of our members even used parts from our pulpit to create a beautiful wooden, wall mounted hanger for our eternal flame.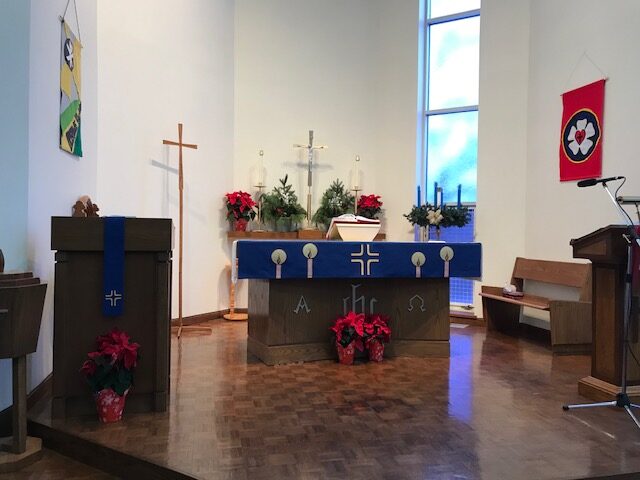 We now have "money in the bank" and can focus on being a congregation "In Mission for Others".
   We have donated our cross and bell tower to Camp Lutherlyn.  Our two cornerstones are going to Rosebank Cemetery, where the majority of our departed family are at rest.  And we are now working on an Outreach ministry plan.
   To date we have sent donations to CLWR, ELCIC Praise Appeal, ELCIC Synod Benevolence, Renfrew Hospice, The Dementia Society and we always have supported the Renfrew Food Bank.
We have moved before………
St James Lutheran Church was originally organized in 1889 in the small community of Northcote, 10 miles outside of Renfrew. The interesting thing is that St James and St John's Lutheran Church, Arnprior were united together as one parish back at that time. How things come around!
Occasional services were held in the town of Renfrew in the late 1940s. When St John's Church in Arnprior became capable of becoming a stand-alone parish, the Canada Synod conducted a survey & decided in 1956 that there was a need for a Lutheran congregation in Renfrew. In December of that same year, St James, Northcote voted to disband and become the nucleus of the Lutheran congregation in Renfrew. Weekly services were first held at the Standard Church in Renfrew and later at the Christian Reformed Church.
On January 12, 1958, St James Evangelical Lutheran Church was organized. On October 16, 1960, the ground was broken for our church building. The dedication service was May 14, 1961.
And here we are, 60 years later, taking another big step, like those faithful members did in Northcote back in the 1950s.
Together with God's help, we will continue to both worship together and help others in need.
Submitted by Marilyn Kropp