Peace Christian Church: A Lutheran Fellowship, of Chatham, Ontario, one of the newest congregations of the Eastern Synod, celebrated "Membership Sunday" on August 23. The outdoor Service at the home of Daniel Whittal and Rachel Schwarz allowed family groups to keep physical distance. Interim pastor Paul Sodtke presided over the celebration which received one youth and two adults by Affirmation of Baptism, and then invited the entire assembly to renew their commitment.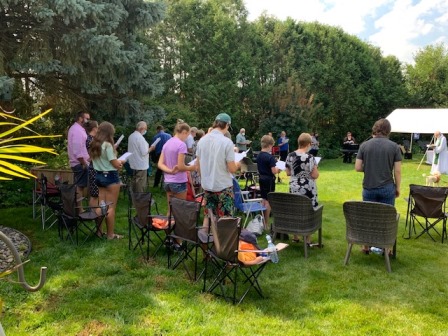 The Service was the culmination of a series of steps, in which the congregation became incorporated as a not-for-profit, applied for charitable status, adopted a constitution that was later approved by Synod Council, and was formally accepted as a congregation of the Eastern Synod. Confirmation instruction plus a series of online studies about the basics of Lutheranism were also part of the preparation.
Following the Service and lunch, the first official congregational meeting as an ELCIC congregation was convened. People who wished signed on as charter members, and a Church Council was elected. We are a small but enthusiastic group, and grateful for the support of the bishop and the Eastern Synod Council.