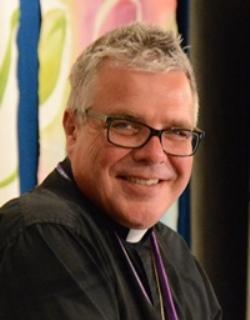 The coming of autumn makes me think of transitions. And those who know me best know that I don't particularly like them. When the kids were younger, I dreaded the approach of Labour Day and "back to school." I liked the gentler routines of summer, the comfortable rhythms of just hanging out as a family, unburdened by the rigid schedules of September to June.
   When I go on vacation I struggle to transition to a time of rest and leisure, and then with the reverse as I transition back to work. I don't like transitions in work relationships and through the years, numerous colleagues have experienced the posture of willful denial that I unashamedly exhibit when they contemplate the possibility of retirement.
   I know, of course, that transitions and changes are necessary. They are a requirement of life. I also know that most of the life transitions I've experienced have been a source of great blessing. Marriage. The birth of children. Ordination. Vocational changes. Welcoming new colleagues and partnerships. Embracing new challenges in life and in faith. Yes, all of them made me anxious. All of them made me fearful. But all of them also granted immeasurable and countless gifts of grace without which my life would be greatly diminished. 
   I think our experience of church is quite similar. Many of us would prefer that nothing change; our buildings, our liturgies, our music and our theological perspectives. But if we are to have life, change is inevitable. And I would maintain, for the most part, that the overarching trajectory of those cumulative changes is strongly toward and in support of the unfolding reign of God. 
   A few years ago I was invited to join one of our congregations for a sixtieth anniversary celebration. They thought it would be fun to replicate the worship style of the era in which they were founded. Clerics wore cassock and surplice. Our prayers were liberally salted with "these and thous". We stumbled and bumbled our way through the Service Book and Hymnal (SBH) liturgy that was normative for North American Lutherans back in the day. And it was fun! But it didn't feel particularly worshipful!
   After worship I heard countless comments along the lines of "I`m glad we don`t have to do that every week! Some of that language was pretty weird!" Truth be told, I suspect that many of those commentators would have been less than enthusiastic in their embrace of the SBH successors – Lutheran Book of Worship and Evangelical Lutheran Worship that eventually came along in the intervening decades. But in retrospect they recognized that the changes were good; they were needed and helped us to praise God in a new time and context with renewed vigour and vitality. 
   I`ve read that phrases like "do not be afraid" and "fear not" occur more than 300 time in the Bible. I`ve not counted them myself. But I do know that we, like our blessed forebears in the faith, need to hear these words repeated again and again and again! Our church is experiencing a lot of change, much of it quite necessary. But I suspect that has pretty much always been the case. That`s what it means to be a living body engaged in living relationship with a living God. The accompanying transitions are tough for some of us. I get that. They are, however, necessary and are carrying us deeper into God`s embrace. Fear not!