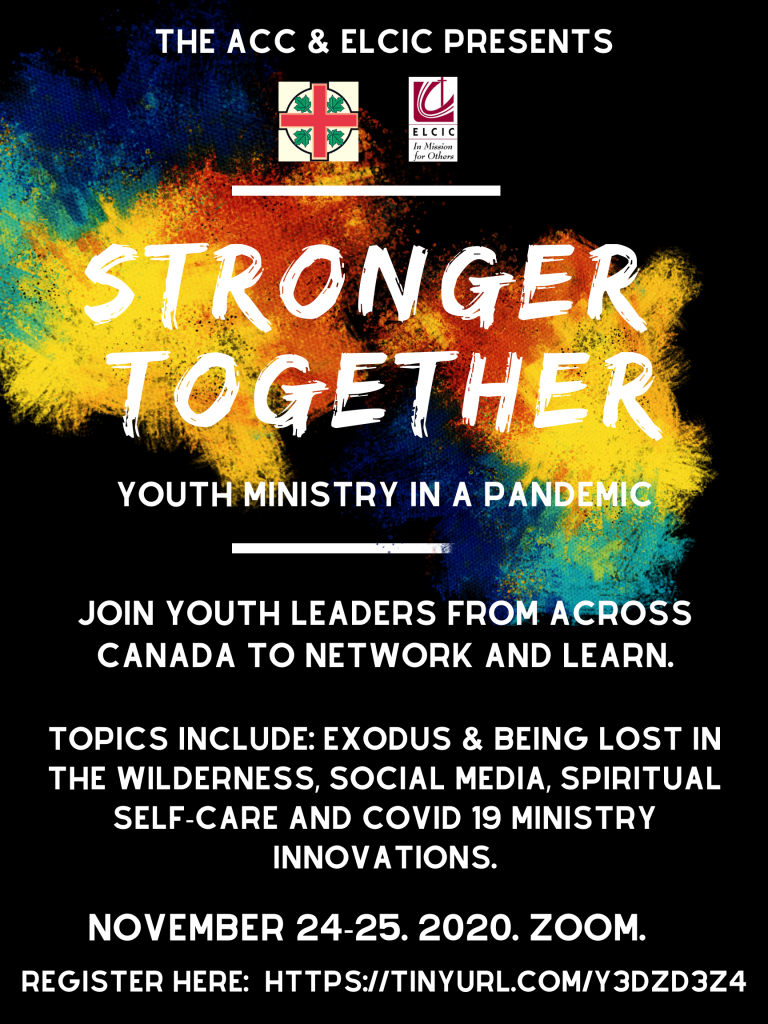 Welcome to Stronger Together, the Pandemic Edition! Stronger Together generally brings together youth and young adult leaders from Dioceses and Synods from across the country to build community, worship and learn about issues facing Youth Ministry. This year we have moved our gathering online. While we know meeting online can't replace an in-person gathering, we hope that more leaders will be able to participate this year because there will be no cost restraints.
November 24 – 25, 2020
Starting time – 10am Pacific / 11am Mountain / Noon Prairie / 1pm Eastern / 2pm Maritime / 2:30pm Newfoundland
Break (2 hours) – Noon Pacific / 1pm Mountain / 2pm Prairie / 3pm Eastern / 4pm Maritime / 4:30pm Newfoundland
Second Session – 2pm Pacific / 3pm Mountain / 4pm Prairie / 5pm Eastern / 6pm Maritime / 6:30pm Newfoundland
We have pulled together a program that looks at Youth Ministry in a Pandemic. Our topics include –
Exodus and the Israelites time in the desert
Innovation in Youth Ministry
Self-care for Youth Leaders,
Youth, Mental Health and Faith
Theology of Social Media
Worship
Stronger Together is an expression of the Full Communion relationship between the Evangelical Lutheran Church in Canada and the Anglican Church of Canada. All Youth Leaders and Campus Ministers are welcome.
There is no cost for this event, but you will have to register by November 20th, 2020 to participate. All sessions will be held online. Details on how to participate will be send by email after we receive your registration.
If you can't make the sessions when they are live, they will be recorded and posted to watch at a later time.
We look forward to connecting with you. If you have any questions please contact Gretchen Peterson gpeterson@elcic.ca or Sheilagh McGlynn smcglynn@national.anglican.ca.