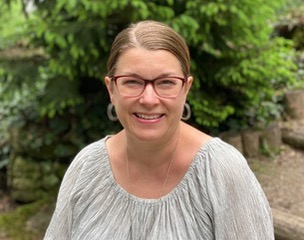 Bishop Pryse is delighted to announce that the Eastern Synod Officers have issued a Call to Specialized Ministry to the Rev. Jennifer Hoover to serve as our next Congregational Redevelopment Advisor. Pastor Jennifer has provided pastoral leadership in two congregational redevelopment efforts that have been supported by the work of the Eastern Synod; at St. Paul, Bridgeport and Bethany, Woodstock. She is passionate about the work of congregational renewal and redevelopment and is excited to join our Congregational Redevelopment Services team!

In accepting this position, Pastor Jennifer remarked, "The moments of surprising discovery-when church leaders and community partners gather together around the table to imagine the possibilities for a particular ministry or service, space or property-these moments have been the highlight of my ministry. Our redevelopment projects may begin as a quest for financial viability and sustainability for our congregations, but both the church and the community are transformed in the process. I'm so excited to begin my new role as Congregational Redevelopment Advisor and to help congregations engage in the vital and hopeful work of renewing the church in a way that honours both the devotion of our forebears and the imagination of our children."
Pastor Hoover succeeds Rev. Dr. Mark Harris who will conclude his term of service on June 30, 2022. I am grateful to Mark for the exceptional leadership he has provided and his willingness to support Pastor Jennifer as she transitions into this role.
If you are ready to explore your options, get in touch with Jennifer Hoover jhoover@elcic.ca