What happens when a congregation reflects on the question "Who is welcome?"
The congregation of St. Paul's Lutheran Church in Leamington, ON did just that and in doing so have changed their very identity.
   Rev Sylvia Swiatoschik used to hear "Oh, you are from the German church on the corner", now when she introduces herself, the reply is "Oh! You are from the church with the cross!"
   In autumn of 2018, a simple wooden cross was erected outside St. Paul's. This warming cross had many hooks on it so warm things could be attached; scarves, hats, gloves and especially work socks were very popular. Neighbours were invited to add items as well. At least twice a week open hooks were filled with new or gently used items.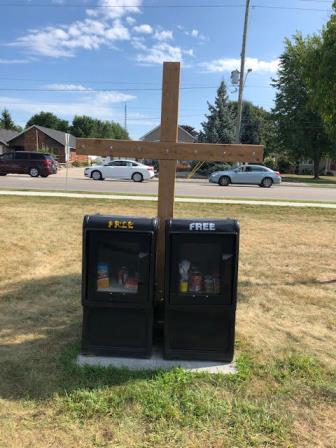 In the spring of 2019, they began looking for some type of pantry shelf based on the idea of the little lending libraries. Two newspaper cabinets with self-closing doors fit the bill and were soon standing by the cross. They were stocked with food items to help meet the needs of an increasing number of homeless or anyone in need. Easy-open cans, applesauce, juice boxes and cutlery are there for those without kitchens as well as the fixings for easy to make meals for those who can cook their own.

   The pantry was initially stocked solely by the congregation through donations, but when a banner was put in front of the cross inviting others to share, within 48 hours 4 large containers were crammed full with food and canned goods. Any items not suitable for the pantry are given to a local Anglican church to help with their weekly community meal or to the local food bank.
   The food pantries will be open till late November and will be re-stocked in late March dependent on the weather. By October the cross will once again have warm items hanging from it.

   St. Paul's has also worked with ecumenical partners to host a block party for their 300 closest neighbours as well as adding an outdoor office aka "pastor hut" to meet people and offer prayer.

   When asked what advice she would give other congregations looking for ways to help, Pastor Sylvia says to just step out and try new things. "The congregation was a bit apprehensive at first, but now see how many people are helped and also, how many of our neighbours want to help, and our projects provide and invite them into participating."