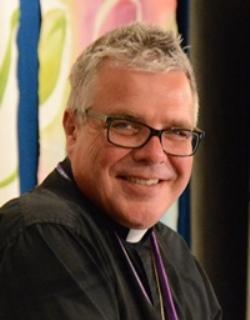 Here's a distressing fact. The Evangelical Lutheran Church in America is the whitest denomination in the United States. The 2014 Pew Research Center Religious Landscape Study found that 96% of the denomination's members were white, 2% black and 2% mixed race or Latino. 
   We don't have similar demographic data for Canadian religious groups, but I suspect that the Evangelical Lutheran Church in Canada would show similar numbers. This should be a matter of significant concern. Increasingly, over time, our demographic profile is becoming less and less representative of the general population as a whole.
   Here's another fact. Jesus was a poor, often homeless, brown-skinned, one time refugee; an indigenous man who lived under colonial occupation.     Truthfully, there is not much about that profile that is typically represented in the composition of our worshipping assemblies. 
   Why is that? Is it merely the result of a few accidents of history and dominant immigration patterns? That's certainly part of it. But that's not all of it, not by a long shot.
   At our 2018 Synod Assembly, we stated a commitment to "the vital and urgent work of confronting the sin of racism and to the dismantling of racist and colonial attitudes present in ourselves, our church, and our society." 
   We further committed ourselves to 
   1. in-depth self-reflection and learning with respect to the issues of racism, privilege, diversity, and right relationships, 
   2. individual and corporate confession of racism as a structural sin which exists in our churches and communities, 
   3. after the process of confession, repentance, self-learning, and reflection to humbly respond to invitations from communities that experience the debilitating effects of racism and with communities that live with privilege, to find ways to journey together, confronting the reality of racism."
   To help us in this work we have created a Racial Justice Advisory Committee to lead our Synod in the work of racial justice awareness, learning, and advocacy. 
   One of their goals is to create safer spaces for conversations about race, in our Synod, Ministry Areas and congregations. They would like to provide a point of contact for those who could use some support, advocacy, and/or a listening circle for those who have had painful experiences related to issues of race and privilege. 
   You can find a helpful resource to use in your congregation at the following link https://www.easternsynod.org/resource/working-toward-racial-justice and contact the committee through their chair, Rev. Joanna Miller (mailto:joanna.e.miller@gmail.com)
   I wish these colleagues well in their work. Some of the conversations they hope to encourage will be difficult. The intent, however, is not to shame or belittle, but to challenge and motivate. 
   The hope is that our synod, in all its expressions, would become more inspired and better equipped to experience and express anew the liberating power of God's grace to grow and bless human community beyond the lines of kinship, race, ethnicity and class by which we have typically defined ourselves.
   I believe that most of us long to be a part of a church whose corporate complexion more closely resembles the reign of God in all of its rich fullness and diversity. I know that I do. But I also know that we have some very challenging and difficult work to do before that vision can become a reality. I know that I need to change and that we need to change. 
   Can we do it? Absolutely! Will we do it? That, of course, remains to be seen.